College Career at Syracuse
Casey Powell enrolled at Syracuse University in the fall of 1994 and started blazing one of the most decorated NCAA lacrosse careers in the history of the sport. By the time he graduated in 1998 his credentials were a direct manifestation of Casey's dedication to his team accomplishments before his personal accomplishments and a fitting embodiment of his is lifelong dedication to the game.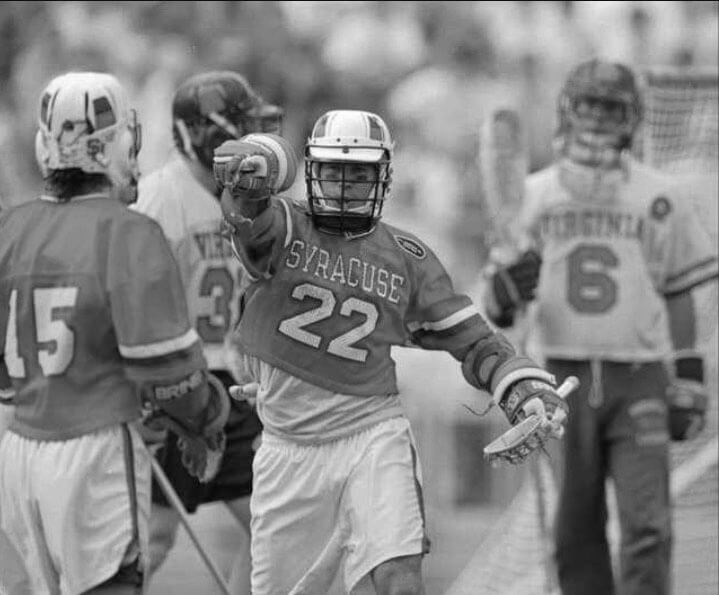 Casey earned four NCAA All American honors (3X First Team) and four All NCAA Tournament honors which has been accomplished by no other player. That combination is a testament to Casey's skill and his ability to perform at the highest level in the post season when it counts most. Casey has a pair of Lt. Raymond Enners Awards for the Most Outstanding Player in Division I lacrosse (1997 and 1998.) He is the only player in history to have won both the McLaughlin Award for Division I Midfielder of the Year (1996) and the Jack Turnbull Award for the Division I Attackman of the Year (1998.) He is also the only player in Division I history to be a 1st Team All American at 2 different positions. There is undoubtedly an additional level of greatness built into Casey's post season performance and incredible versatility as a player.
Casey accumulated a career total of 287 points which puts him 12th on the NCAA all-time scoring list, fittingly tied with his brother and former team mate Ryan Powell (Syracuse '00.) Casey and Ryan are tied for second on the Syracuse University all-time scoring list behind their brother Mike Powell (Syracuse '04) with 307 points.
The story comes full circle when you ask Casey Powell what his most treasured accolade is. His answer without hesitation is the National Championship won by Syracuse University in 1995 and being elected Captain of the Orange.